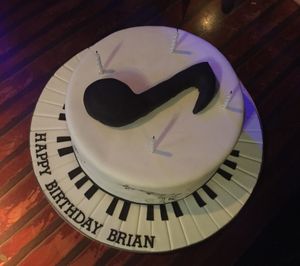 Well, that was fun!  Back-to-back gigs for Jim and I this weekend... Friday night
Now and Then
 played at Pub Fiction in Ancaster. We were lucky to have our friend Mike Albert join us on stage for a few tunes on his sax... Thanks Mike!!
While that was fun, Saturday night was definitely the icing on the cake. We got to test out some new gear in a live setting (watch for a blog post on this soon!), and the commentary from the patrons was very positive.  The service was excellent and the food was good as always.  Speaking of food and cake, we celebrated Brian's birthday on Saturday as well!  Thanks to the Jagger's for spending the evening with us. For those of you who missed it, check out this creation! A shout out to Christina D'Angelo of
Pearls and Spice
 for this masterpiece.
Overall, a fantastic weekend of music!  More live dates in October and November coming up. Thanks to the Tin Cup and to all of you for making this so much fun to do. 
Have a fabulous week!
Sarah ♫
Bliss - Voice